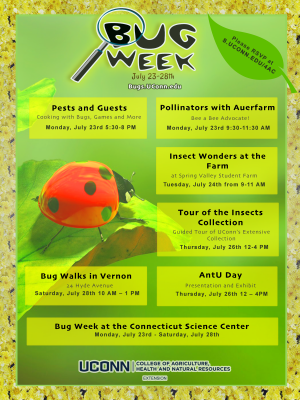 Bug Week 2019 is July 22nd – 28th. Programs will be updated later this spring.
Please visit our registration site to RSVP for the lineup of Bug Week programs you can participate in:
You can register for any of the programs at http://s.uconn.edu/4ac. If you have questions about any of our programs, please email us at bugweek@uconn.edu or call 860-486-9228. Programs are free of charge for all participants, except for the program at Connecticut Science Center, and sponsored by UConn Extension and the Connecticut Museum of Natural History. We do require RSVP for all programs as space is limited.
If you require accommodations to participate in any of these programs, please contact bugweek@uconn.edu or 860-486-9228 at least 48 hours prior to the event.