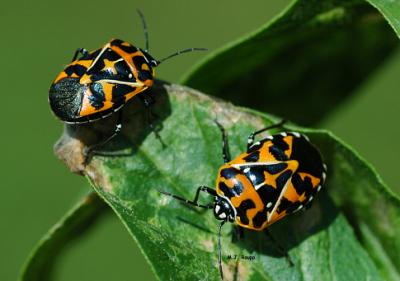 Please visit our registration site to RSVP. We have a great lineup of Bug Week programs for you to participate in:
Pests and Guests – Cooking with Bugs, Games and More – Monday, July 24th at 5:30 PM

Activities include: cooking with bugs, games and demos for the whole family, and learning about bugs in the garden. Please RSVP at bugweek@uconn.edu or 860-486-9228

Insect Wonders at the Farm – at Spring Valley Student Farm – Tuesday, July 25th from 9-10:30 AM

Join UConn Extension faculty and Spring Valley Student Farm staff and students for an interactive, fun-filled 'buggy' event. Learn about our amazing and important insect friends by collecting and observing them. Activities for the whole family will include insect collecting, insect-inspired crafts, Bug-Bingo and a scavenger hunt.

Tour of the Insect Collections – Thursday, July 27th from 2 PM to 4 PM
AntU Day – Thursday, July 27th from 12:30 PM – 4:30 PM

12:30-1:30 pm – Special AntU presentation by Janine Caira (Bio/Physics 130)  http://antu.uconn.edu
 1:30-4:30 pm –  Army Ant Guest Exhibit activities with our Giant 12-foot ant, microscope stations, giveaways, and a live ant colony in Bio/Physics Building Lobby as well as Insect Collections Tours (see above). Also, Greenhouse displays and a new Ant-Plant "Treasure hunt" available to attendees in the greenhouse downstairs! http://maps.uconn.edu//?c=map&m=locations&locid=43

Pollinators with Auerfarm – Friday, July 28th from 9 AM – 12 PM

The event will have station on the beehive, pollinator plants and a hands-on make and take activity. Open to youth and adults. Please RSVP at bugweek@uconn.edu or 860-486-9228

Bug Walks in Vernon (24 Hyde Avenue) – Saturday, July 29th 10 AM – 1 PM

Find out all about insects and where to look for them at Bug Walks at the Tolland Agricultural Center in Vernon. The program will have live insects on display, right out in the open, plus part of the insect collection from the UConn Natural History Museum, as well as three bug hunts that include going to the butterfly/ pollinator garden and the vegetable garden on the property.
You can register for any of the programs at http://s.uconn.edu/3r7. If you have questions about any of our programs, please email us at bugweek@uconn.edu or call 860-486-9228. Programs are fee of charge for all participants, and sponsored by UConn Extension and the Connecticut Museum of Natural History. We do require RSVP for all programs as space is limited.
If you require accommodations to participate in any of these programs, please contact the Student Activities Office at (860) 486-3423 or programs@uconn.edu 48 hours prior to the event.