Prep Time: 30-45 minutes
Cook Time: 35 minutes
This recipe celebrates the bee, nature's pollinator. It is hard to emphasize how much of an impact these tiny insects make on our way of life. So much so that one in every four bites of food you eat is thanks to bees! Most honey bees that you find are female, with the males (dubbed drones) looking distinctly different than their worker counterparts.
While honey bees live together in a hive and produce delicious honey, there are many different types of bees that contribute to our ecosystem. The mining bee lives alone and digs a hole in the earth as a home. Carpenter bees, which look similar to bumble bees but without a hairy abdomen, create holes in wood where they lay their eggs. All types of bees contribute to the pollination effort (though some more than others) and should be celebrated! Next time you see a bee in the wild, remember to thank it for all the work it is doing to keep the environment healthy.
Ingredients for Cake:
You will need:
1/2 cup unsalted butter
1/2 cup neutral oil
1 & 1/2 cups granulated sugar
4 eggs
1 tbs vanilla extract
3 cups all purpose flour
1 tbs baking powder
1/2 tsp salt
1 1/4 cups buttermilk
Ingredients for Frosting:
You will need:
1/2 cup unsalted butter
2 cups confectioner's sugar
1 & 1/2 tbs vanilla extract
2 tbs milk
yellow food coloring
Step 1:
First we will be making the frosting from scratch, and of course the first step is to assemble the ingredients. For best results, have everything at room temperature before mixing.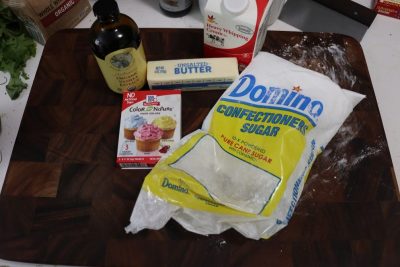 Step 2:
Cream the butter until it has a smooth texture, then gradually add a fourth of the confectioner's sugar.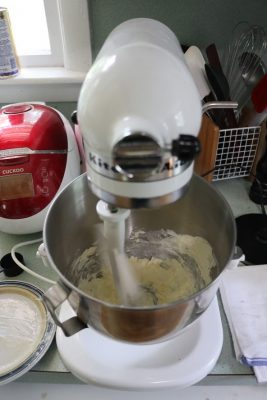 Step 3:
Add the vanilla extract and food coloring until golden yellow. Stir for another 3 minutes and your frosting is complete!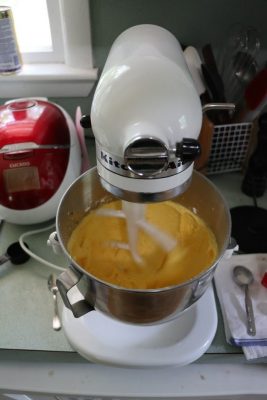 Step 4:
Time to begin creating the cake, assemble the ingredients together. Also, preheat the oven to 350F.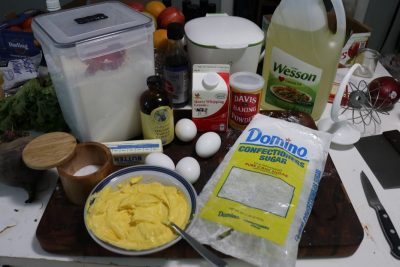 Step 5:
Mix together the butter, oil, and sugar until well combined. Then add one egg at a time, mixing thoroughly in between.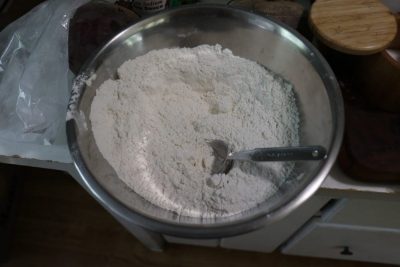 Step 6:
In a different bowl, mix your dry ingredients together which includes your flour, baking powder, and salt. Add a bit at a time to your wet mix.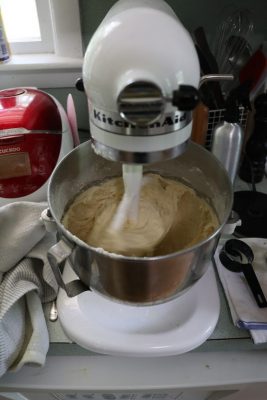 Step 7:
Now that the batter is finished, it's time to place it into a greased pan and into the oven for 30-35 minutes.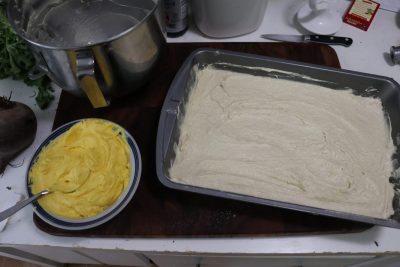 Step 8:
Allow the cake to completely cool as it will be hot out of the oven and the next steps use our hands to break the cake apart.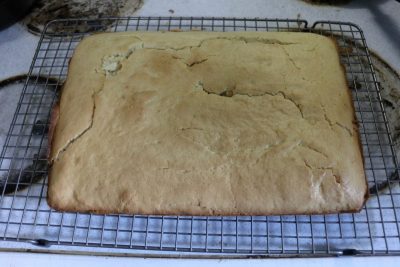 Step 9:
With your frosting nearby, break apart the cake into fine crumbs into a bowl.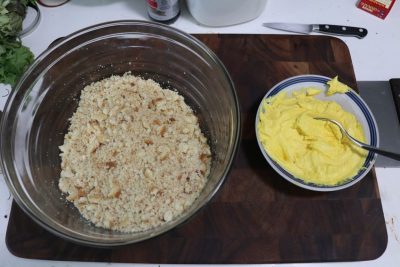 Step 10:
Add a few spoonfuls of frosting into the cake crumbs. This will give it a nice yellow hue and make it easier to bind together into a ball.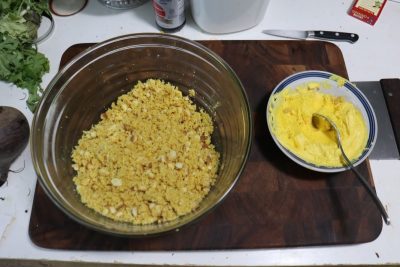 Step 11:
Roll the cake mixture into balls and stick them onto a stick or similar pole-like item (here I used a toothpick). Freeze the cake balls for a few minutes to solidify them for the next step.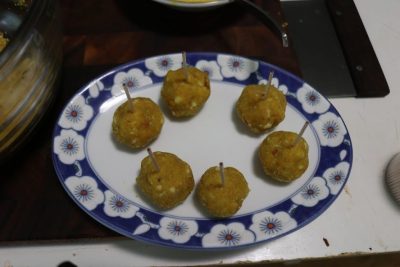 Step 12:
Melt a little bit of chocolate of and coat the cake balls with the frosting. Use the chocolate to decorate the cake balls. I found refrigerating the frosting covered cake pops makes them easier to work with and using a fork works well for spreading the chocolate into finer lines.