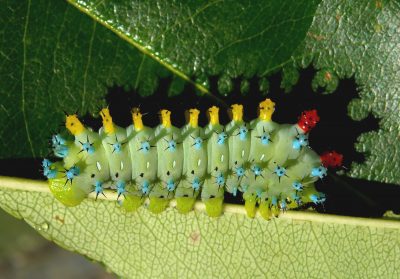 This is a Cecropia moth caterpillar. Do you want to see one in person? Meet this guy, and lots of other bugs on Saturday at our Bug Walks event in Vernon.
Bug Walks in Vernon (24 Hyde Avenue) – Saturday, July 29th 10 AM – 1 PM

Find out all about insects and where to look for them at Bug Walks at the Tolland Agricultural Center in Vernon. The program will have live insects on display, right out in the open, plus part of the insect collection from the UConn Natural History Museum, as well as three bug hunts that include going to the butterfly/ pollinator garden and the vegetable garden on the property.
---