By: Donna Ellis, UConn, Department of Plant Science and Landscape Architecture, 2015.
Lady beetles, also known as ladybird beetles or ladybugs, are members of the insect order Coleoptera, which are insects with sheathed or covered wings. The adults range in length from 1 to 10 mm, typically have round or oval bodies often brightly colored red or orange, and may have spots or other patterns on their wing covers, known as elytra. Lady beetles can be found in many habitats, including back yard landscapes, vegetable gardens and commercial farms, fruit orchards and vineyards, and natural areas, anywhere their food sources are abundant. The adult life stage of these beneficial insects can also feed on pollen, nectar, and honeydew from garden plants.
Most lady beetles are beneficial. They are predators of soft-bodied pests such as aphids and scale insects as well as insect eggs, immature insects, and mites. There are several species of lady beetles that are pests of beans, grains, and squash, however. A number of lady beetles have been used as biological controls for agricultural pests. Vedalia beetles (Rodolia cardinalis), for example, were the first biological control agents released in the US, where they controlled cottony cushion scale in California citrus groves. The twice-stabbed lady beetle (Chilocorus stigma) is a predator of aphids and scale insects in woodlands and orchards. There are native and non-native lady beetle species in the US.
Lady beetles undergo complete metamorphosis, changing from egg to adult in approximately 8 weeks. They overwinter as adults. In the spring, after mating, female lady beetles lay yellow eggs in clusters of 5 to 30, typically on the underside of leaves and often where a food source is abundant. Eggs hatch in about 4 days and the immature lady beetles, called larvae, begin to feed on their prey. Both larvae and adult lady beetles feed on the same types of prey. The larvae do not resemble adults at all, appearing more like tiny alligators with elongated bodies that are segmented, dark in color with yellow, white or red banding or spots, and sometimes with spines. Larvae feed abundantly, with a single larva devouring up to several dozen aphids per day. The larvae molt and pass through four growth stages, or instars, during a three- to four-week period. Larvae then develop into pupae, a transitional stage occurring in 3 to 12 days from which they emerge as adult lady beetles.
Some common lady beetles in Connecticut are the multi-colored Asian lady beetle (Harmonia axyridis), the 7-spotted lady beetle (Coccinella septempunctata), and the spotted lady beetle (Coleomegilla maculata).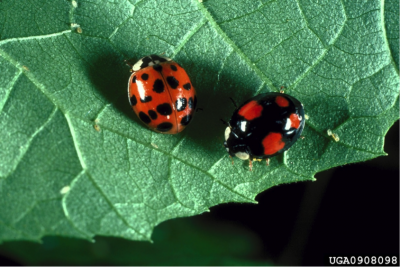 Louis Tedders, USDA Agricultural Research Service, Bugwood.org
Multi-colored Asian lady beetles (Harmonia axyridis)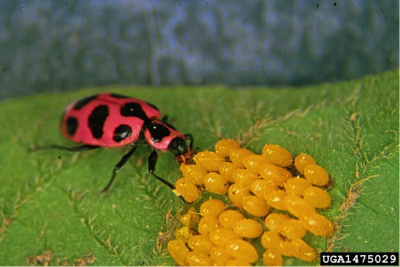 Whitney Cranshaw, Colorado State University, Bugwood.org
Spotted lady beetle and eggs (Coleomegilla maculata)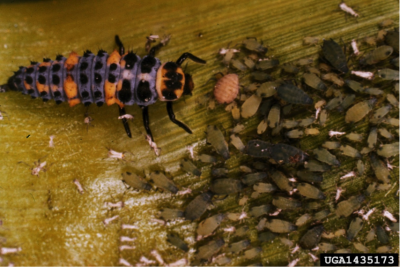 Clemson University – USDA Cooperative Extension Slide Series, , Bugwood.org
Lady beetle larva feeding on aphids
References
Cranshaw, W. 2004. Garden Insects of North America. Princeton University Press, Princeton, N.J. 656 pp.
University of Florida Featured Creatures http://entnemdept.ufl.edu/creatures/beneficial/lady_beetles.htm
White, R.E. 1983. Beetles. Peterson Field Guides. Houghton Mifflin Company, NY, NY. 368 pp.
---