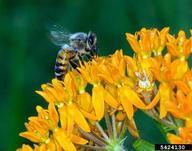 Join Dr. Jane O'Donnell, Manager of Scientific Collections, Invertebrates, for a tour of the Department of Ecology and Evolutionary Biology's Insect Collections.
We will run four identical tours, as space is limited. To register, please email bugweek@uconn.edu or call 860-486-9228.
When: Thursday, July 27th
Times Available: 2 PM, 2:30 PM, 3pm, 3:30pm or 4 PM 
The collections are in the Biology/Physics Building (not the Museum of Natural History), 93 North Eagleville Road (BPB on the campus map; see http://maps.uconn.edu/
Park in the North Garage, on North Eagleville Road. There is a fee to park.
Exit the garage (walking) on the north side, closest to North Eagleville Road. Walk up the sidewalk along North Eagleville Road until you reach the main entrance of BPB. The entrance is clearly visible from the sidewalk.
Enter and proceed into the main lobby, which includes a large ceramic mural and 4 display cases. Walk past the cases; the entrance to the collection facility is on your left, in an alcove before you get to double glass and wood doors, and is marked by a sign.
Push the button (hard) and someone will greet you at the door.